THE HISTORY OF THE FIRST BAPTIST CHURCH OF GAUTIER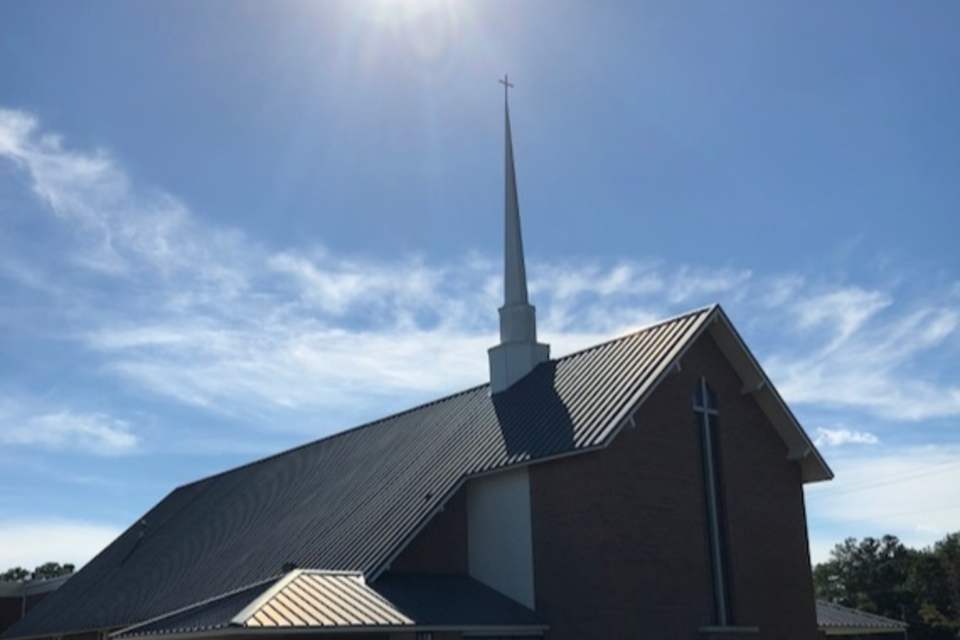 Gautier, named after one of the pioneer families of Jackson County, had its beginnings as a village with a sawmill and a creosote plant.

In the early 1940's there were no more than 500 people living in the Gautier area. There were at least three churches in the immediate community that met the spiritual needs of the people. The oldest church was New Era Baptist church, attended by the blacks of the community. Bethel Baptist Church, a Missionary Baptist church, also ministered to the people of Gautier. St. Pierre Episcopal Church, organized in 1920, served as a community church.

Families of all denominations attended the Sunday School and the worship services of this small Episcopal church. A few of the Gautier families attended churches in Pascagoula. However, the fifty-cent toll charged to cross the Pascagoula River discouraged many of the Gautier residents from worship in Pascagoula.
In the early 1940's as Gautier began to experience growth, several of the Gautier residents, who were Southern Baptists began to feel the need for a church of their own.
Rev. J.L. Reeves, who had been ordained to the ministry by First Baptist Church of Pascagoula in July 1939, saw the need for a church in the Gautier area. In late 1941 and early 1942, Bro. Reeves began to visit the people and meet with them in their homes. He was assisted in this mission endeavor by Rev. J.L. Morgan, Mr. and Mrs. W.L. Blain, Mr. and Mrs. Robert E. Lynn, Sr., and Mr. and Mrs. Bill Richards, all from First Baptist Church, Pascagoula.

They began holding prayer meetings and Sunday School in the homes of Gautier residents Mr. and Mrs. O.B. Loper, Sr., Mr. and Mrs. H.B. Rollins, Mr. and Mrs. Kell Penton, Mrs. Della Martin, and Mr. and Mrs. Lee Rouse. Soon a committee was elected to approach the trustees of Gautier Elementary Scholl to obtain permission to use the school for the purpose of Sunday School and worship. After much prayer by the congregation and discussion with the trustees, permission was granted. On Sunday, March 15, 1942, the Gautier residents and their friends from First Baptist, Pascagoula, under the leadership of Bro. Lester Reeves met for Sunday School and worship in the elementary school. The church would continue to meet in the school building until 1945.

On Sunday, September 20, 1942, the congregation was officially organized as First Baptist Church of Gautier with thirty-one charter members. On the following Sunday, September 27, the church issued a call to Bro. Reeves to become their first pastor, serving on a part-time basis while working at Ingalls Shipbuilding. The church was accepted into the Jackson County Baptist Association at the Fall Associational Meeting held at Wade Baptist Church, in October 1942.

While greatly strengthened and encouraged by the assistance of friends outside the church, especially members of First Baptist Church, Pascagoula, the Gautier fellowship was from the very beginning self-supporting. The congregation received the offerings, bought their literature, and paid the pastor's salary. Bro. Reeves' salary in those beginning days was twenty-two dollars and fifty cents, just enough for his car expense. His challenge to the people was, "Let's build a church!"
In April of 1943, the church purchased from Dantzler Lumber Company at a cost of $550, the present property on which the church plant is located.

The War Labor Board would not grant a permit to build due to the shortage of materials. The church was forced to continue meeting in the school. Even though they had no building of their own, God blessed. In a revival during this period the church saw eleven people saved. In the spring of 1945, the church faced a crisis that turned out to be a blessing in disguise. Because of a complaint from someone in the community, the trustees withdrew permission to use Gautier Elementary School. The final service in the school was held the last Sunday of May. They had no building in which to meet but the members of the church were not deterred. For three Sundays they held Sunday School classes and worship services under the shade trees. According to members who were present at the time, attendance did not drop but actually increased.

Rev. Barney Walker was enlisted to preach a revival beginning the third Sunday of June 1945. In preparation for the revival, the people of the church, aided by a number of community friends, built a brush arbor. They nailed wood slabs to the trees in a rectangular shape, stretched chicken wire over the slabs, and covered the wire with limbs, pine tops, and palmettos. Ten wooden benches were purchased at a cost of $2.50 each from a Pascagoula open air theater which was going out of business.

Music was provided by an old-fashioned pump organ purchased for $10. When not in use, the organ was protected from the elements by a tarpaulin. Mrs. Della Martin played this organ and continued to do so for a number of years. "Aunt Della" was succeeded by her daughter, Mrs. Edith Roberts, who was to play the piano for the church for twenty-five years.

The revival was a great success. Twenty-three people came for baptism, including a seventy-four-year-old lady known affectionately to the members as "Ma" Wasson. Several people transferred their membership and there were a number of rededications. It was a glorious day for the young church when Bro. Reeves baptized the twenty-three people in the Pascagoula River near where the present Highway 90 is located. One particularly moving moment was when Bro. Reeves and Kell Penton, a member of the church who had recently surrendered to the gospel ministry, carried the seventy-four-year-old lady out into the river and baptized her while seated in a chair.

The brush arbor was to render more service to the congregation following the revival. For the remainder of the summer months, the church worshipped in this crude structure. During the entire time, there was never a service canceled due to inclement weather.
While they were meeting in the brush arbor, the church received permission from the War Labor Board to build, and in July 1945, construction was begun. Mr. Wallace Quinn, who was the owner of the Menhadden Fisheries in Pascagoula, a Methodist layman, and a Gautier resident, donated the blocks and other building materials. He also provided laborers to help in the construction. Two men were hired by the church to lay the blocks but the men of the church did the remainder of the work. The benches and the pump organ were moved into the new building. A piano was purchased through a piano fund started when the church was organized.

Even though the construction was not complete, the first worship service was held September 20, 1945. This structure still stands and has undergone extensive external and internal renovations.

On July 15, 1945, Kell Penton was the first man licensed to the gospel ministry by the young church. In the years that followed there were to be others called from this fellowship into the ministry.

In January of 1947, Bro. Reeves left the shipyard, entered Clarke College in Newton, Mississippi, and graduated from there in 1948. He also attended New Orleans Baptist Theological Seminary for two years before ill health forced him to withdraw.

After eight fruitful years as pastor of First Baptist Church, Gautier, Bro. Reeves resigned September 20, 1950.
Rev. Paul S. Kirke became pastor of First Baptist Church October 29, 1950. This was to be the shortest of his three pastorates at the church. During this pastorate, the church voted to replace the old benches in the auditorium with new pews purchased at a cost of three thousand one hundred dollars. Bro. Kirke resigned as pastor June 24, 1951.
Rev. Ernest Myers, a student at the New Orleans Baptist Theological Seminary, became the pastor in September 1951. For the first time, the church provided a residence for the pastor. A railroad house was rented for Bro. and Mrs. Myers for $20.00 a month. Bro. Myers' wife, June, was the daughter of Dr. Charles L. McKay, a former pastor of First Baptist Church of Pascagoula. Bro. Myers served until September 1952.

On January 18, 1953, Rev. Paul S. Kirke became the pastor for the second time. During the summer of 1953, the church purchased a house and moved it onto the church property as a pastorium for Bro. Kirke and his wife, Johnnie. This house with renovations and additions, serve the pastors and their families until the construction of the new pastorium in 1972. The house was then utilized as a youth center until 1976 when it was sold and removed from the property. Bro. Kirke's second pastorate at First Baptist Church ended August 7, 1955.

The church was not long without a pastor. Rev. W.A. "Bill" Baria assumed the pastorate on October 30, 1955. Bro. Baria and his wife, Jan, were to remain at First Baptist Church until February 17, 1957. In that time several important accomplishments were achieved. The church had in the past baptized converts in the Pascagoula River or in the baptistery of a sister Southern Baptist church. During Bro. Baria's pastorate, a baptistery was installed in the sanctuary.
In the summer of 1956, the church contracted with Mr. "Hub" Rollins and a Mr. Switzer to construct a much needed educational building for $12,000. The construction of this block structure was financed through the sale of $100 certificates through Merchants & Marine Bank to members and non-members. This building was to help meet the educational needs of First Baptist Church for a number of years. It was also used as a fellowship hall until the present sanctuary was built in 1968. The fellowship hall and the kitchen were moved at that time from the educational building to the old sanctuary building. This building was demolished in 1976 to make room for the new, two-story educational building and Family Life Center.
Following Rev. Baria's resignation in February 1957, Bro. Paul S. Kirke received his third call as pastor, assuming his duties March 31, 1957. During this third pastorate, several firsts
occurred. In September 1957, Bro. Kirke received the first indefinite call as pastor. Until that time the church had voted each year on whether to extend a call to the pastor. In June of 1958, Wilson Woodall became the first paid choir director with duties to lead the congregational singing and to work with the adult choir. His stipend was actually only enough to cover his travel expense and he would never accept a raise. He continued to serve in this capacity until June 1973. In June of 1958, Bro. and Mrs. Kirke were sent as the first messengers from the church to the Southern Baptist Convention. In November of that same year, Mrs. Johnnie Kirke was employed as the first church secretary working twenty hours a week.
Several construction projects were carried out during Bro. Kirke's third pastorate. One project was the renovation of the original auditorium which was completed in the early months of 1958. Another project was the construction of a second educational building. The groundbreaking ceremony was held August 5, 1960, with the church acting as its own building contractor. Engaged to supervise construction was Wes Marshall. Laborers were hired by the hour. Randal Huling, Clark Massey, and W.T. Roberts were the church's representatives working with Mr. Marshall. The church had received a bid of $52,000 but was able to construct the building for $26,000. Office and educational furniture were purchased at an approximate cost of $11,000 in order to equip the building. The dedication service was held Sunday afternoon, June 4, 1961. This building is still in use now having been renovated to house the nursery area, children's Sunday School rooms, the pre-school and after-school programs as well as school offices.
The church was without a pastor for several months following Bro. Kirke's resignation August 6, 1961. It was April 1, 1962, before Rev. J.F. Stanford assumed the pastorate of First Baptist Church. He was to serve only until November 7, 1962, resigning to accept a church in Baton Rouge, Louisiana.
On February 10, 1963, Rev. W.C. Burns became the pastor. He and his wife, Joy, and their five children were to share in a number of significant achievements during the nine years of his ministry with the church, one of which was the incorporation of the church in 1965.
On September 17, 1967, the 25th Anniversary of the church was observed with dinner on the grounds. Bro. Lester Reeves preached in the morning service and Bro. Paul Kirke preached in the afternoon. A quilt containing all the names of the charter members was presented to Bro. and Mrs. Reeves as the first pastor and wife.
One of the most important events during Bro. Burns' pastorate was the construction of a new sanctuary. In 1967 a Building Committee was elected, comprised of George Douglas, Leroy Foster, Katherine Helton, Leonda McDaniel, W.T. Roberts and Wilson Woodall. A loan was secured from Merchants & Marine Bank of Pascagoula for $130,000. In October 1967, the $107,097 bid of the Fletcher Construction Company of Pascagoula was accepted by the church.
The ground breaking service for the building was held Sunday. January 21, 1968. The building was complete enough for an associational wide "Crusade of the America's Rally," to
be held there September 17, 1968. The total cost of the sanctuary, including pews and pulpit furniture, was $131,268.30.
Gautier began to grow in population during this period. This led to growth within the church through the able leadership of Bro. Burns. This growth was reflected in the average annual Sunday School attendance. In 1963, it was 170 but by 1971, the average was 250. On February 27, 1972, Bro. Burns preached his final sermon in word and song as pastor of First Baptist Church of Gautier.
Rev. John G. Brock was called as pastor July 30, 1972. The first Sunday on the church field for Bro. Brock, his wife, Katherine, and their children, John Jr. and Jana, was August 27. The Brock family moved into a rental house in West College Park in Gautier. In the interim period between pastors, the church had begun construction of a new pastorium in the Sandalwood Subdivision at 824 Graveline Road. The one and one-half lot property had been purchased in October, 1966, for $9,000. The general contractor was Herbert A. Krebs. There was a Planning Committee, a Finance Committee, and a Building Committee which aided in the construction of this home. The pastorium was completed at an approximate cost in excess of $30,000, and is still in use today. An open house was held Sunday, February 25, 1973.
During this period of time, Ingalls Shipbuilding began a dramatic increase in employment, eventually reaching an estimated work force of over 26,000 people. This resulted in a tremendous growth surge in Gautier. First Baptist Church likewise experienced dramatic growth. In 1972 the average annual Sunday School attendance of 240, but by 1973, it was 329. The growth in attendance became so great and the church facilities were so limited that in October, 1974, a two-Sunday School plan was begun. One met at 8:30 A.M. followed by the morning worship service at 9:45, which was in turn followed by the second Sunday School at 11:00 A.M.
The church also responded in other ways to these increased opportunities for ministry. One response to these opportunities was the beginning of a kindergarten program in September, 1973. The student enrollment grew from 40 children that first year to a record enrollment of 108 in 1982. With the advent of the public kindergarten program, the need for a church kindergarten greatly diminished. However, First Baptist continued to minister to the younger pre-schoolers. An after-school program for school age children began August 1991. The daycare was started on May 1, 2006. After Katrina so many daycares had significant damage or just closed down so the need for full daycare in Gautier was great. Also, several of our mothers needed to go back to work to help fill the monetary gap from the devastation they experienced. We began the daycare literally in 30 days. We started with four classrooms and have grown to 10 classrooms.
The church, under Bro. Brock's leadership, responded to needs with an intercessory prayer ministry that began in September 1975. At one time there were over one hundred people committed to this daily prayer ministry. Those people involved saw God work in many ways. Under the leadership of Bro. David Aultman, an e-mail prayer ministry was begun and continues today with over 290 people receiving prayer requests several times a week.
On Wednesday night, March 17, 1976, upon the recommendation of the Building Committee and the Church Finance Committee, and after careful explanation of the plans, the church voted overwhelmingly to begin construction of a two-story Educational and Family Life Building. The total cost was to be $620,000 with an estimated furnishings and equipment cost of $44,500. The church voted to employ architect James McCleskey of Hattiesburg. At the November business meeting, the church voted to secure a loan of $550,000 from First Federal Savings and Loan Association and chose to award the building contract to McClendon Building Services of Gulfport. Funds would be raised through the "Together We Build" program. This campaign was designed to enlist the members to give over and above their budget gifts to the building fund. A goal of $750,000 was set and Jack Topham was elected as campaign director. The building complex was completed and a dedication was held November 6, 1977.
After six and a half years, Bro. Brock resigned the pastorate of First Baptist Church, accepting a position at Van Winkle Baptist Church, Jackson, Mississippi. On May 20, 1979, the church extended a call to Dr. Billy R. Williams, who was then at New Hope Baptist Church, Marion County, Mississippi. Accepting the call, Dr. Williams preached his first sermon as pastor June 24, 1979.
On the evening of September 12, 1979, Hurricane Frederic struck Mobile, Alabama, as a category 4 hurricane. It then traveled along the coast to Mississippi and caused a great deal of damage to the Mississippi Gulf Coast. The church was severely damaged with the insurance company calculating the damage at $109,000. The church was blessed in that $100,572 was paid by insurance. Fletcher Construction Company of Pascagoula was employed as the contractor. The Renovation Building Committee was comprised of members Mayron Cummins, Leroy Foster and Gene McDaniel. Because of the overwhelming repair demands placed on builders coast-wide, and also due to the time needed to secure beams and decking for the sanctuary, it was months before anything more than temporary repairs could be made. The sanctuary renovation began in April 1980, and was completed in June. Worship services were held in the Family Life Center during the period of renovation. By August 1980, most of the repairs and renovations had been made.
The three member Renovation Building Committee had been authorized to proceed with the renovation of the old sanctuary, which was being used for storage, as well. At the July 1980, business meeting a fourth member, Larry Wise, was added to the committee. The renovation of the old sanctuary and the addition of a drive-under to the Nursery Building began in the fall of 1980. Mayron Cummins was chosen to do the renovation work and to supervise any other contractors, such as the brick layers. The total cost of the exterior work was just over $20,000, with the interior work costing slightly over $43,000. Added to these figures was an additional cost of nearly $13,000 for pews and pulpit furniture, a piano, faceted glass windows, furniture and equipment for the classrooms, and drapes. The faceted glass windows were delivered in the spring of 1983 and a dedication was held Sunday, April 17, 1983. That building contained the original sanctuary but now houses the church offices. The flower room, custodial room and classrooms are still in use.
On Labor Day, September 2, 1985, tragedy once again struck the Gulf Coast in the form of Hurricane Elena. The damage in Jackson County was severe. First Baptist was again hard
hit as the sanctuary sustained extensive damage. In addition, the roof on the new education building was ruined and the wooden gym floor was damaged beyond repair. The church was to receive from the insurance company a check for $331,946.70. The front page of the church newsletter for September 10 had these words:
FIRST THE BAD NEWS Our auditorium is badly damaged.
Our gym is badly damaged.
Our air conditioner units are badly damaged.
NOW THE GOOD NEWS We are handicapped on all sides,
But we are never frustrated.
We are puzzled,
But never in despair.
We may be knocked down,
But we are never knocked out!
II Corinthians 4:8,9 Phillips
The church was indeed not "knocked out" for on Wednesday night, September 18, the church elected a Renovation Committee composed of Mayron Cummins, Leroy Foster, Billie Lofton, John McMaster, Willard Randolph, Francelle Sanderford and Ed Trehern. This committee was to give months of careful study to the renovation and rebuilding plans before they reported at special called business meetings May 7 and May 11, 1986. In addition to the hurricane repair, they proposed a major renovation to the sanctuary, including the addition of a balcony and a newly expanded foyer. Fletcher Construction Company of Pascagoula was again employed as the contractor with Kenneth Teague of Pascagoula serving as the architect. The sanctuary renovation and the hurricane repair was to total over $400,000. A rededication service for the newly renovated sanctuary took place Sunday, December 14, 1986.
During the recovery time following Hurricane Elena, the church served as a feeding center for victims and volunteers alike.
On June 10, 1987, the trustees recommended that up to $475,000 be borrowed as needed from Merchants and Marine Bank of Pascagoula to be repaid at $2,500 bi-monthly, to pay off the indebtedness to First Federal and to pay all remaining renovation and repair debts. This also included the purchase of a new Allen organ for $25,588. From this loan, a building to house the bus and the van was constructed. In addition, the existing parking lots were resurfaced and repaired. An acre of land across from the Family Life Center on the southeast side of Penton Street had been purchased in 1986 for $35,000 through a special offering. The trustees' recommendation included the preparation and asphalting of this land for a parking lot. The renovation of the nursery area at a cost of $14,405 was also included in this proposal.
Throughout its seventy-five year history, First Baptist has been a mission minded church. In October 1970, the church began sponsoring the Woodhaven Baptist Chapel in east Ocean Springs. This sponsorship continued until the mission was constituted as a church January 20, 1974.
First Baptist was also the sponsoring church for the First Indian Baptist Church of Pascagoula from July 1979 until this ministry was no longer needed and the mission dissolved in 1987. The pastor of the church, Cloyd Harjo, was called in June 1979, followed by Ray Brooks in 1981. The church building was completed in 1982. In 1986, Bill Baria was called as the final pastor. During Hurricane Elena in 1985, the associational office was heavily damaged so operations were moved to the Indian Baptist Church temporarily.
First Baptist Church has been privileged to have people leave its ranks for the mission fields. Southern Baptist foreign missionaries include Bill Montgomery, a staff member, and his wife, Sandie, to Ghana, West Africa, members Jerry and Joyce Spires, to Malawi, Africa, and Rondall Kilgore, a staff member, and his wife, Charlene, to Brazil. Matthew Williams and his wife Shea remain in Indonesia, and Jason and Courtney Barlow are in the Pacific Rim serving as Southern Baptist missionaries. Both Jason and Courtney grew up in First Baptist Church and Jason was a former Minister of Youth here. Also having grown up in First Baptist, Bryan Randolph is serving in Brazil along with his wife Amanda. Member Melanie Lawler served as a Southern Baptist Home Missionary in Nevada and is now in Louisiana. In addition, many of our young people have served as Summer Missionaries to various locations. Member Justin Sanders served first as a Summer Missionary to Niger, Africa, twice, and subsequently spent a year in India. Our most recent summer missionary is Shane Brown who spent two months in two different locations in southeast Asia.
Presently serving with other missionary organizations from the membership of First Baptist are Helen Rego Vanderwerf in Mexico, Elysa Harvey Maclellan in Belumbe, Africa, Terry and Edith Elbin in the Philippines, and Dave Green in Taiwan.
In September 1992, Family Night Suppers were established. We now average 75 people every Wednesday night at these suppers. Also in 1992, forty-two people were baptized to demonstrate their salvation experience.
The Penton property, consisting of 2.1 acres with a house, was purchased for $85,000 in September of 1993. In January a new sign for the church was approved and constructed at a cost of $7,977. First Baptist of Gautier recorded twenty-nine baptisms in 1993.
Keith Hill was hired in March of 1994 as interim Minister of Music. He directed the adult choir and served until September of 1995. In November of 1994, the church approved the purchase of partitions at a cost of $8,025 to use for sub-dividing the gym into smaller areas for Sunday School class space for the youth. Twelve people were baptized in 1994.
The Point Clear area of Gautier was targeted for distribution of THE JESUS FILM video in February of 1995. The men and ladies of the church continued a 10-year tradition of participating in the Jackson County Church Softball League. In anticipation of an additional staff member and needed office space, the nursery was renovated in March of 1995. This provided an additional office and a workroom for office equipment as well. Charles Welch joined the staff as Minister of Students and Outreach in April of 1995. In July, "Mondays with The Master," were instituted, featuring guest ministers and musical worship services. In 1995, thirty people were baptized into the family of God at First Baptist Church of Gautier.
Tom Byrd became part-time Minister of Music and served from February of 1996 until November of 1998. Jeff Rankin was licensed to the ministry by First Baptist Church of Gautier in July of 1996. On June 12, 1996, Matt and Shea Williams were commissioned by the International Mission Board at the Southern Baptist Annual Convention in New Orleans. A large number of our members traveled to the Superdome to be a part of the service. Matt and Shea were appointed as missionaries to Indonesia where they continue to serve today. The Family Life Center underwent major roof repairs of $65,189 in August. A 1997 Ford van was purchased for use in our church ministries for $22,506. God's family of baptized believers increased by twenty-nine in 1996.
In July of 1997, the church implemented a beautification project allowing trees to be planted in honor of individuals on the church property. Rebecca Williams was elected to a four-year term as President of the Mississippi WMU serving from 1997-2001. Gator Day, a worship service recognizing and honoring athletes, choir and band members, teachers, coaches and administrators of Gautier High School, was established in 1997. Forty-five people were baptized in 1997.
In January of 1998, the church debt stood at $156,000. Prompted by a gift of $70,000 from an unnamed church family, a drive was started to pay off the remaining amount within a year. Debt retirement was achieved by using monies from budget reserve and by receiving individual gifts. The goal was completed on June 16. A "Church Note Burning" ceremony took place in September. Later in September, an unfriendly visitor, Hurricane Georges, did extensive damage to church facilities. The repairs were made over a period of several months at a cost of $185,000. Wylie Dilmore was called as Minister of Music in November and served until August 25, 2002. A total of twenty-eight baptisms were reported in the year 1998.
In June of 1999, First Baptist Gautier became a Charter Global Priority Church and, as such, chose the Sundanese of Indonesia as our people group for whom we prayed daily. Rev. Hugh Smith resigned November 14, 1999, to assume the pastorate of Twin Lakes Baptist Church, Madison, Mississippi. In 1999, "Heaven's Gates and Hell's Flames," a dramatic presentation using church members as the cast and involving many in construction and counseling, resulted in three nights of a packed sanctuary, many decisions being made and lives changed in our community. Restlessness in our country and attacks of violence in our schools led our people back to seek God. Prayer walks on the campuses of our elementary, middle and high schools as well as the community college, were held asking God's watch care over students and teachers. First Baptist baptized forty-six into our fellowship in 1999.
In January of 2000, First Baptist Church welcomed in a new year, a new century and a new millennium. Staff changes soon came. Jean Young, after serving twenty-five years as Financial Secretary, retired on March 31. Becky Watts began as Financial Secretary April 3. Charles Welch assumed a new position as Minister of Education and Outreach in April. The church took action in a February 2000 business meeting to demolish the laundromat and remove the "White House" from the property purchased from the Penton family. Trustees completed the sale and removal of the home in May of 2000. English as a Second Language was taught to non-English speaking persons using a Biblical approach. Members both taught and sponsored refreshments for this program. The church nursery was remodeled and
refurbished. Bible Drills for Children and Youth began under the leadership of several faithful church members. The Sunshine Sunday School class began for people with special needs. Nicole Marr was commissioned to serve a two-year mission endeavor to Spain in August of 2000.
The Mississippi Baptist Partnership paired our church with the two states of Delaware and Maryland. This led us to send a group in the summer of 2000 to First Baptist Church of Hurlock (Maryland) and Harvest Baptist in Salisbury, Maryland. A group of fifteen members helped in construction, VBS, worker training and visitation. The following summer, a group of twenty-two helped Annie Armstrong's home church, Seventh Baptist Church, Baltimore, Maryland, in the renovation of a townhouse for visiting volunteers, youth and family ministry, VBS and by witnessing to the community.
A New Believers Sunday School class was started in 2001 as was a new class for women, ICU (I Care-about You). Due to the Navy Home Port locating in Pascagoula, thus bringing an increased number of military families to our area, First Baptist Church of Gautier held a recognition luncheon for our military families. Upon the recommendation of the Transportation Committee, the church approved the purchase of a new 2000 Chevrolet Aerotech 280, 30 passenger bus at a cost of $54,374. September 11, 2001, brought Americans again to their knees. Our church planned a recognition service to honor our police and firemen. Refreshments were taken to the stations on a designated day during the following week. And in 2001, the church joined the digital age with our first e-mail address. God continued to bless our church with an increase of baptized believers. There were fifty-four people baptized in 2001.
The North American Mission Board commissioned Melanie Lawler to serve as a missionary to Reno, Nevada, in February of 2002. That same month, a 15-passenger Dodge van was purchased at a cost of $20,495. The church approved an 8:15 A.M. praise and worship service which began in February. Viola Graham, church pianist, retired in March after thirty-two years of faithful service. Susan Lofton Landry assumed the church pianist position on March 31. First Baptist members helped members of Gautier's Providence Baptist Church in a joint endeavor to teach and reach children for Christ through a Vacation Bible School in July. In August 2002, eight of our church members traveled to Indonesia to do prayer walking, work in English speaking worship services, and minister to children and women. While there, they worked and fellowshipped with a former member of our church and his family.
As the church prepared for a 60th Anniversary celebration, a vote was held to construct a beautiful steeple at the top of our main building. It was raised in time for the anniversary weekend.
After twenty-three years as pastor of First Baptist Church Gautier, Dr. Billy R. Williams announced his retirement effective December 29, 2002. He and Rebecca moved to Lake Caroline, north of Jackson, Mississippi, where they built a new home. They have both continued to work in various areas of ministry.
Dr. Richard Wash served as Interim Pastor of First Baptist of Gautier from March 1, 2003, until December 28, 2003. Having previously served as pastor at the Kowloon International Baptist Church in Hong Kong from 1991 to 2002, Dr. Wash and his wife, Janice, were relocating to the United States and were "between churches" at the time. He impressed on the membership that we had had one pastor for so long that he believed God sent him to us to get us ready for a change. When Dr. Wash left us, he became the pastor of Calvary Baptist Church in Foley, Alabama, near where he and his wife had built a new home in Robertsdale.
The vote to call David W. Aultman as pastor was held 11/30/03. His first Sunday was January 4, 2004. In 2004, a new ministry began. Backpack Buddies' mission was to reduce the effects of childhood hunger by providing nutritious, easy-to-prepare food over the weekend to children in food-insecure homes in the Gautier area. The objective was to bridge the gap between Friday and Monday when food may not be available, and thereby provide a bit of security for the children.
We began the year 2005 with various projects and works including the establishment of our first website. And then there was KATRINA!
On August 29, 2005, Hurricane Katrina hit the Gulf Coast with a fury and left a level of devastation that had not been experienced in this area in many years. The storm was very large and moved at a fairly slow pace resulting in typical hurricane wind damage but also, flood damage to places that were never considered to be at risk. Our facilities received over $1,400,000 in damage. God moved in some awesome ways through our recovery. He provided for our specific needs with money, materials, and manpower. We received gifts from places as far away as Korea. We received building materials delivered from as far away as Georgia. We had people travel from as far away as California, with an almost constant convoy of people from various locations in Virginia, Ohio, Pennsylvania, George, Florida, and Tennessee. The needs and the work to be done were so great that a decision was made to hire another staff member to manage it all. Jerry Worzella was hired as Minister of Disaster Relief for a period of at least a year to coordinate with the many volunteer teams and oversee assistance to homes in and around our area.
We started out serving as a Disaster Relief Distribution Center manned by our members at the request of the city. When that project was over, our people worked on their own homes as well as community needs. Volunteers not only helped FBCG in its personal recovery, but they helped us assist in over 235 homes being restored for people to safely live. We had two college students that used their own resources to make a return trip from Virginia to assist in the demolition of walls in our facilities. We had one church donate 150 9' tall Christmas trees that first Christmas after Katrina. Another group sent hand-made quilts to our families. A church from Florida came and held a fish fry for our men and a luncheon (with gifts) for our ladies. A man in Georgia got his dealer's license to sell General Electric appliances just so that he could order directly from the factory to save us money in helping restore appliances in storm damaged homes.
Over 1400 volunteers from over 85 churches stayed at our facility. Their projects equaled more than $4,000,000 in assistance in monetary value with consideration of labor
costs and building material costs. We began our disaster relief efforts in October 2005. By August 2006, we had completed 170 projects with 55 more in various stages of completion.
Despite the damage and efforts to rebuild, we kept our promise to be a collection center for Operation Christmas Child. We collected and delivered over 1400 boxes to Hattiesburg, over 200 of those being made and contributed by our own people.
The real blessing from our Katrina ordeal is that we saw 24 people make decisions for Christ and 26 more joined the church by transfer of letter or statement.
In 2006, Rev. Reuben Ramirez used our chapel to start a Spanish speaking ministry. We established a Disaster Relief Outreach Ministry Fund in the amount of $50,000. Our Child Care Director, Kim Ord, was appointed to the State of Mississippi Advisory Board for Daycares. We held a very successful Upward Basketball program.
2007 saw efforts from outside sources to bring gambling in the form of a casino to Jackson County. Although the Choctaw Tribe did not need the approval of the county to build, they believed a successful referendum on the gaming question must occur in the county before they could demonstrate local support and gain approvals from the Governor and the Secretary of Interior. The church members took part in efforts to thwart the building of a casino by standing in a protest, speaking up in meetings and writing of letters. County voters shot down the project, with 60% opposed, in a November 2007 referendum. Additionally, the county Board of Supervisors, the Ocean Springs Board of Aldermen and Governor Haley Barbour all objected to the casino. The Interior Department rejected the plan in January 2008.
We established a Disaster Relief Outreach Ministry Fund in the amount of $100,000, in 2007. The Back Pack Ministry which originally started with a few children at Gautier Elementary School expanded to include College Park and Gautier Middle Schools and included 35 children. On May 6, the dedication of our new Kohler & Campbell Grand Piano was held.
In August 2007, our choir took part in a musical presentation held in the Mississippi Gulf Coast Coliseum and then televised on WLOX on September 1. "How Great is Our God," is a powerful worship experience, reflection, and celebration that was presented to lead the people of the Gulf Coast into a deeper understanding of faith and joy in the midst of suffering. It was especially important as people continued to deal with the aftereffects of Katrina.
On May 20, 2008, we voted to purchase the corner lot across the street from the church for $170,000. The building, on the northeast corner of Penton Street, once known as Mike's Automotive, now belonged to Doug "Cowboy" Rice. We decided to leave the building standing and it was used to store building supplies for a while. In August, we sponsored "Team Impact" to speak and do several programs in Gautier over a weekend. They spoke to over 3000 children at all of the schools in Gautier on Friday. 250 were in attendance at the Friday night church service, 350 Saturday night and 450 at the two Sunday services. There were 228 recorded decisions.
In 2009, there was extensive damage in Texas from Hurricane Ike. Our Disaster Relief team delivered our shower/laundry trailer to San Leone Community Church in San Leone and we also gave them $14,142.69 to help in their recovery. A dedicated tool trailer was built for Disaster Relief this year. A deep water well was sponsored in conjunction with a medical mission trip made by Debbie Gautier, Debbie Gill and Sharon Marks to Uganda.
Our Christian Action Committee in 2009 brought to the church's attention the possibility of there being a vote against abortion on the state ballot in November 2011. A constitutional amendment that would have defined a fertilized egg as a person was called the Personhood Amendment. The committee studied the proposal, informed the church and began to work toward showing support for the amendment. In order for it to be put on the ballot, a little over 89,000 valid signatures were required on petitions. One of our members, Jonathan Blakeney, became Gulf Coast coordinator for Personhood Mississippi and was privileged to be one of the people who delivered the petitions to the Secretary of State's office in Jackson. Unfortunately, the voters of Mississippi ultimately voted down Initiative 26 by a margin of 58 to 42.
In 2010, our GA's and RA's held a special offering for IMB and Baptist Global Response for Haiti following a devastating earthquake. They collected $4,400. The church added $5,000 from our Disaster Relief Fund. In September, we hosted a 3-day marriage enrichment seminar lead by Steve and Annie Chapman. On October 17, we voted for a new building project in the amount of $950,000.
2011 found us moving into our new offices. The Youth Complex was completed and demolition was begun on our child care building. In April, a radio ministry was begun with a one-hour broadcast on WPMO 1580 AM on Sunday mornings. Our elevator was installed much to the delight of members who had difficulty climbing the stairs to their Sunday School rooms. On July 17, Janie Steele was hired as Children's Ministry Director. On August 21, we voted to change our monthly business meetings to quarterly ones.
On September 8, 2011, a Long Range Planning Committee was elected. Members were Gaynell Atkinson, Gloria Blakeney, Ronnie Blakeney, L B Corley, Craig Frye, Kelley Frye, Mark McDaniel, Sarah Ord, Richard Pipkin and Kris Staup. In October our Disaster Relief Ministry purchased a log/brush hauling trailer with a rake to be used on their trips that required removal of trees, shrubs, and other clean-up jobs.
The Long Range Planning Committee presented their final report to the church in February 2013. Their findings were:
1. Gautier First – a call to focus on ministry in our community
2. New Member Orientation – to assist new members in a better understanding of who we are as Southern Baptists and First Baptist Church Gautier
3. Variation of Sunday night Worship Services – a call to offer different types of services on Sunday nights to encourage more church participation
4. Committee Training – a call to better train people to do what the church is asking of committee members
5. Analysis of the Utilization of Social Media – a call to study how the church could better utilize social media as a way to connect with the younger generations of our community
6. Emergency Preparedness – a call to study ways of enhancing our preparedness in case of any type of emergency.
A lightning strike in 2013 caused extensive damage to our computers, sound board, sound equipment, video equipment, roof, and steeple. We helped in disaster relief following extensive flooding in Louisiana from Hurricane Isaac. We also started a new project in 2013. Spring Fling was designed to provide an environment for families to bring their children for food, fun, and fellowship. The Sunday School Council hoped to reach younger families through a relationship of trust and care for their children.
Our Ladies' Ministry formed with the first meeting of GALS in Christ on February 26, 2014. The first Bible study held in June was 40 Days Can Change a Life with 45 women participating. The second Bible study was begun in September, The Friendships of Women, with 49 participants. The first annual GALS Holiday party was held on November 8, and their first craft night was December 5. In December, Ron Sharpless was hired as the maintenance supervisor, a position that Dave Young had held for 15 years. A recommendation to construct a memorial bell tower was passed.
A Sunday School Revival to remind us of the benefits of a strong Sunday School program was held 3/28-30/14, led by Rev. Dionne Williams, Gulf Coast Association Missions Director. May 4, 2014, saw a new event come to FBCG. "Connection Sunday" was designed to inform the church family of the various ministries available to volunteers and to encourage everyone to be involved in sharing hope in a hopeless world. Following a potluck lunch, 17 ministry booths were open for members.
A combination youth and adults mission trip was made to Ivydale, West Virginia, in July 2014. The group led VBS and a revival. Work teams repaired plumbing in one church and painted the sanctuary of another. In August, Bro. David started a Young Men's Accountability Group which continues to meet every Sunday afternoon today.
On September 21, 2014, the church voted to refinance the balance of the 2010 loan that was used in the building program, thus reducing the interest rate, reducing the number of years left on the loan from 11 to 7, eliminating the balloon payment that was due on December 15 and offering no prepayment penalty.
We became involved with a new ministry in February 2015. Mission Jackson County worked one Saturday each month to help people with basic needs cleaning yards and gutters and performing general repairs. This is a county-wide project but we focus on Gautier. In May, the B-Men held their first gathering to study The Man Code by Dennis Swanberg. In June the Youth made a mission trip to Ethel, Mississippi, putting on an entire VBS for a church there.
In January 2016, William "Bill" Lewis joined us a Minister of Music and Education. He was welcomed along with his wife, Theresa, and son, William, with a pounding.
On August 24, 2016, the Bell Tower dedication was held. Church bells were once used as a way to call the members for worship or to remember some significant event to the church or community. The history of this particular bell and it's link to our community is significant. Tom Roberts, the father of Jack Dawes Roberts, worked at the Creosote Plant next to the railroad. When the plant was closing down, the superintendent, Mr. Nicholas, asked Tom if there was anything he wanted as he had worked there many years. Tom said he would like the bell that came off the # four train. His family used it as a house marker for some time. When First Baptist Gautier was started, the bell was put on pilings in front of the church and was rung to let residents know it was time for Sunday School. After the timbers rotted and the structure became dangerous, it was given back to the Roberts family and was put in storage.
After Jack's death May 5, 2013, his sister Judy suggested that a bell tower be built. The church approved the project and planning was begun with Ernie Wolf designing and doing the draft. Jim, Tonya and Beau Roberts removed the palm tree from the area where the tower was to be constructed. Jim Roberts restored the bell and built the cross for the tower. Church members donated the money needed for construction. It was dedicated in memory of Jack Roberts and as a way of remembering the past 74 years, at the time, of the life of First Baptist of Gautier and the many people who have served faithfully through the years.
2017 began with the blessing of licensing Matthew "Matt" Johnson to the Gospel Ministry. On March 4, we hosted a Regional State Convention Disaster Relief Training. Then on March 12, we had visitors in our worship service who had been affected by our Disaster Relief Ministry. Bro. Eugene Gullet and his wife Betty came to thank us for the use of our shower/laundry trailer for 5 months after their town, Sorrento, Louisiana, was flooded in 2016.
On May 7, 2017, Wayne McMahon tendered his resignation as Minister of Students and Senior Adults effective May 31. Soon thereafter, the Personnel Committee began to work on finding an interim Minister of Youth and a search committee was elected to begin the process of finding God's man for the permanent position. In June, a vote was held and the following were elected as members of the committee: Scott Davis, Matt Johnson, Buddy Landry, Drew Olsen and Christy Tingle, with Kelley Frye and Melanie Pace as alternates. On August 6, a vote was held to hire Kris Staup as interim.
On July 14, 2017, the final payment was made on the building note!
The church is involved in a number of outreach ministries. One of the ministries is that of Bible correspondence to prison inmates. Several members of the church are involved in the Seamen's Center ministry. There is a weekly flower ministry to the sick and shut-ins and the Homebound Ministry visits the homes of shut-ins, delivering recordings of the Sunday morning worship services. The Back Pack Ministry continues and has grown in the number of children reached and the number of volunteers helping and supporting.
First Baptist Church of Gautier has a well rounded, hard working group of volunteers that assist in disaster relief when called. The church maintains a trailer equipped with showers, a washing machine, and a dryer. We have the ability to locate this trailer anywhere it is needed to provide shower and laundry facilities to volunteers working disaster recovery. We have team members that are certified to do chainsaw work, clean-up, mud-out, food preparation, and to serve as assessors of project needs and chaplains. They are ready, at a moment's notice, to fulfill any request for assistance.
At this very moment someone, somewhere is praying; maybe through word, thought, flowing through a pen or painted on a wall, they're speaking to their creator. At First Baptist, Gautier, we seek direction from God through prayer as well as communicate praises and needs to Him. We have a 24/7 prayer chain ministry and communicate with members through e-mails. Members are encouraged to submit their e-mail addresses to fbcgprayer@gmail.com in order to receive these e-mails.
Members of First Baptist Gautier have been involved in missions from our hometown to mission fields abroad. Several ladies and youth worked in children's camps and house building with Habitat for Humanity in Jackson, Mississippi. Others have been to New Orleans friendship House to sort clothes and clean a shelter for women and children. Several of our men did carpentry work in the same facility. Several of our adults helped in medical mission teams in Mexico, Honduras, Ukraine and Uganda. In addition, laymen and teachers have spread God's love in the Philippines, Alaska, Norway, and Ukraine.
FBCG member Harry Gaston's first trip to Ukraine was in 1993 with International Crusades, Dallas, TX. He and Rev. Lynn Mackey were assigned to the village of Malinovka. They were the first Americans ever in that village. A ministry to Ukraine was begun!
It began with the renovation of the Baptist church in Malinovka in 1994 which was dedicated in 1996. The search began for villages with no church building. When a village was identified as being in need, a building suitable for renovation into a church building was purchased and remodeled. The first of these was in Glybuka. The purchase of the building and financial support of the ministers was the foundation of the ministry. Six sponsored churches have been established.
In 2000, the president of Global Outreach, Randy VonKanel, was visiting the Home of Grace, a Christian drug and alcohol rehabilitation center in Vancleave, MS. He and Harry struck up a conversation about the ministry in Ukraine which had been set up through Global Outreach to plant the churches. Randy wondered if a center similar to the Home of Grace could be set up in Ukraine. Harry remembered a 12,000 sq ft cooperative farm administration building overlooking several thousand hectors of lush farm land that might be available. It had been 90% empty since the collapse of the Soviet Union just a few years earlier. The post office occupied 10% of the building. On his next trip to Ukraine, Harry visited the building with the president of the Cooperative Farm Program in that region. Oil prices had doubled in Ukraine and the C.F.P. was not going to have the money for fuel to bring in the crops. They then went to the authorities in Chernovsky and Harry was able to purchase the building for the cost of the fuel to harvest the crops, $8,700.00. Harry explained that the building was going to
be used to establish the first alcohol rehabilitation center in Ukraine. It was established as The Place of Hope.
Years later a farm and farming equipment were purchased as was a building where sunflower oil could be processed to help support the ministry. Although not a Southern Baptist project, The Place of Hope continues to be supported by FBCG and individual members as well.
For a number of years, our approach to meeting goals for the Margaret Lackey State Missions Offering, Annie Armstrong Easter Offering and the Lottie Moon Christmas Offering has been through the "March to the Cross," emphasizing North American Missions, and the "March of Flags," highlighting our mission work in International Missions. These events have specifically focused our thoughts, prayers, and attention on missions. Our goals have been met on these mission emphasis days most years.
In June of 2018, after about an 18 month search process our church called Bro. James Wilson and his wife Melissa as our Minister of Students. Bro, James jumped right into ministry in the busy summer and hasn't stopped yet. Our church is excited about the future with our team of called staff, office staff, and a church body eager to serve the Lord!
"TO GOD BE THE GLORY"